RA Conference 2015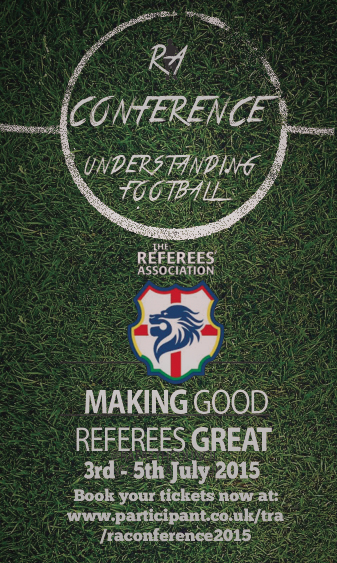 The annual RA Conference is a great opportunity to meet, discuss with and learn from some of the top referees in the country. The workshops are fun, engaging and thought-provoking. The Conference is designed to help develop your refereeing abilities and ensures that you have an enjoyable time whilst doing so.
With this year's Conference being held at the Radisson Hotel Heathrow we can represent Reading RA in significant numbers. We will be looking to arrange group travel for attendees this year so when you have registered please make sure that you let me know by return email. Please be sure to confirm what days you will be attending, which Saturday workshops you have chosen and whether you will be staying for the evening meal.
A Conference overview is written below; the full agenda can be found on the registration portal (click here).
Friday 3rd July 2015 – RA-FA Youth Council Events: Mission (Im)Possible 1.00pm – 4.30pm: Enhancing the skills required for your refereeing mission 7.00pm – 10.30pm: Making your refereeing mission possible RA-FA Youth Council Events – Whole Day Cost (Afternoon and Evening) = £22.00
3.00pm – The RA AGM AGM open to Full Members & Youth Members only – Free to Members
Saturday 4th July 2015 – The RA Conference 2015
The RA conference is FREE to members and priority will be given to members – £25 to non-members
9.30am Entry – 10.00am Conference opening by The RA President, David Elleray
Keynote 1 – "Understanding Football"
Interactive Workshop 1
Lunch
Interactive Workshop 2
Interactive Workshop 3
Conference Closes at 5.30pm
Saturday Workshops
Managing the technical area
Promising attack or DOGSO
When to play 'advantage'
How to recognise simulation
Keeping the lid on things
How to plan your fitness training
Assisting or insisting
Conference Dinner The Conference Dinner is on Saturday evening at 7.00 pm seated for 7.30 pm There will be presentations of RA Life Membership & Cup Finals Awards during dinner The preferred dress is 'Black Tie', alternative Lounge Suit.
We are hoping for a large turnout from the Reading RA, if you have any questions don't hesitate to contact us.
It must be stressed that this year's conference is expected to be bigger than 2014's sell-out, so register your place quickly.