Serious injury can be a difficult judgement
Refereeing is all about making decisions. In an average match a referees make in the region of five hundred decisions. Sometimes, thankfully very rarely, those decisions might be a matter of life and death. Few football fans will need reminding of the Bolton game at Tottenham when Fabrice Muamba collapsed. The referee, Howard Webb, realised very quickly that this was no ordinary injury. His early stopping of the game and calling on the physio, probably played a part in saving his life. A couple of weeks ago there was another serious injury at a Premier League match in which the referee Mike Dean was heavily criticised for not stopping the game but he has my sympathy.
It's worth looking at what the law says about this aspect of the game. 'The referee stops the match if, in his opinion, a player is seriously injured,' but it also says, 'the referee allows play to continue until the ball is out of play, if the player, in his opinion, only slightly injured'. That can be a big decision. There are of course situations where a referee will immediately stop play, for instance two players clashing heads, as well as other occasions that are quickly recognised as serious, such as a heavy collision with a goalpost or a broken limb. As I point out in my book So you carry the Sponge, a first aid manual for local club trainers, all major injuries can bring about shock, which is a very real physical condition. This can be serious in itself, so needs early attention.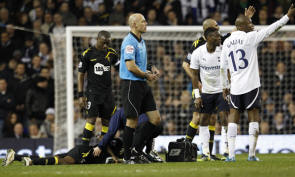 The trouble is that when a player goes down, not every injury is serious or so easily spotted as such. How often have you heard the crowd booing a player who they think has faked his injury only to see the player removed from the field of play on a stretcher. In contrast, at the Reading game against Arsenal, Jodi McAnuff kicked the ball out because he had seen an opponent lying on the ground. If he had only had another look he would have seen the Arsenal player already on his feet. In the Mike Dean situation the ball was played forward at just above head height. The Tottenham goalkeeper came out to the edge of his penalty area and punched the ball clear. It was a clean punch, no way did he also strike the Swansea striker Michu, who had jumped to head the ball but not surprisingly, there was a collision and Michu went down.
There was an added dimension however, in that the goalkeeper's punch was so cleanly struck that it travelled well down the pitch, allowing for a Tottenham break well into the opponents half. Mike Dean was now faced with the situation that if Michu was not seriously injured and he stopped play he would be denying Spurs a goal scoring opportunity. I had a similar decision to make in a cup-tie a few years ago although the injury was not sustained in the same way, but as in this case, the injured player could not have affected subsequent play. I allowed play to continue and a winning goal was scored. The player turned out not to be seriously injured but that didn't stop the crowd giving me stick.
There is one other aspect that can affect a referee's decision and that is the propensity of players to fake injury and sometimes it has become a ploy to break up a move. Who knows whether this affected Mike Dean's decision to delay stopping the match but Howard Webb spoke of this after the Muamba incident. Continual faking by players, he warned, could at sometime lead to a referee ignoring a genuine serious injury, with fatal results. Thankfully this did not happen in this match.