Open meeting – August 2013
Welcome back!
As another new season beckons, so do our monthly meetings, with the first one this coming 
Thursday, 15 August,
 at the  
Earley Home Guard Social Club
, Pitts Lane, Earley, Reading RG6 1BS as usual.
——-
Your committee has been working hard during the summer to come up with ideas to make our meetings even better. We've already got visits from Nigel Adkins, Ian Blanchard and Lucy May lined up.
——-
For starters, we are now organising a special 'Young Referees' (under 21) meeting beforehand, starting at 7.15pm and running for 30 minutes, this is designed to offer our younger referees the chance to get to know each other and to share experiences. Matthew O'Riordan and Stephen Saunders, two of our more established young referees are organising it. The plan is that the young referees can either leave at 7.45/8pm or stay for the guest speaker and leave at 9.15pm. So, if you are one of our newer, younger referees, why not come along and meet other young referees?
——-
Our guest speaker for this month's meeting (Thursday 15th August)  is Will Finnie: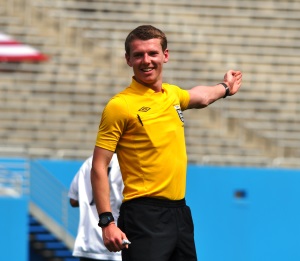 Will Finnie, 18, was born and lives in Luton, Bedfordshire. Will played youth football for the district school team and local youth team, Luton Borough, up until Under 14s. Will qualified as a referee in February 2009 and has subsequently reached Level 4 with three successive promotions within two seasons. Will recently represented The FA at the Dallas Cup and refereed the U14 final on live US TV. Will is currently serving upon the Spartan South Midlands Premier Division (referee) and the Contributory Leagues (as an assistant referee). He also coaches a group of 6officials, as well as being a qualified FA Tutor. Will is the Head of Projects on the RAFA Youth Council and has worked on several pieces of work over the past year.
Will is going to talk about the work of the RAFA Youth Council as well as his experiences on the Dallas Cup.
——-
To counter all the good work that Gary Connolly has been putting in with his fitness sessions (which have now ended and for which we are extremely grateful), we are laying on a few nibbles to make it a good social evening. Those of you who attend regularly will know that the exorbitant bar prices of the Madejski are a thing of the past!