Time for abusive language to stop
Last week's football headline was the suspension and fine of John Terry, Chelsea and former England captain, who had been accused of racially abusing Anton Ferdinand whilst playing against Queens Park Rangers. Terry had been acquitted of a racist charge at a magistrates' court, when we heard every detail as to what was said. I think, although unpleasant, it is important to remind ourselves of the words that Terry admitted to using which were, 'a f——g black c—'.  The court case all hinged on the word 'black' and whether it was constituted a racially aggravated public offence. The magistrate gave Terry the benefit of the doubt but last week he faced an FA disciplinary hearing into using abusive, and/or insulting words, including the reference to Ferdinand's colour.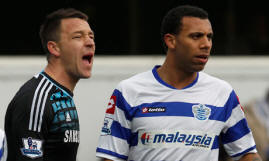 If we therefore leave aside the racial element of the exchange between the two players, we are still left with the other two words. The Laws of football state quite unequivocally that 'a player using offensive, insulting and/or abusive language and/or gestures is sent off'. Note that it doesn't have to be aimed at the referee as players sometimes believe. Can anyone deny that those words are insulting and abusive? Why then, it may be asked, did the referee not send Terry off? I can't speak of course for the referee on that day but the reluctance of Premier Leagues referees to take action against this type of behaviour, which is seen by millions on television, has long been a sore between the top referees and those who have to control the games at park level.
     The Premier League referees will quote various reasons. One is that they don't hear the comments above the noise of the crowd. Also players may seem to be close to the referee when they make the remarks but this is often a distortion of the camera and they are actually out of hearing. One referee evoked the expectations of the spectators. Imagine their reaction, he said, if I sent off the star player that they had paid good money to come and see, just because he swore at me. Players defend their right to use bad language. I remember the late Gary Speed saying when he was a player, 'no one is going to stop me swearing', as if it was his inalienable human right to use offensive language. Terry excused his choice of words as 'player's banter' and we are often told it is in common or industrial usage. Imagine however, if in your work place, one of your colleagues called you 'a f—–g c—, would you treat it as banter?
     But why does it matter what players say to one another? I remember refereeing a Berks & Bucks cup tie at Palmer Park tracks, when after a foul I managed to stop the perpetrator from smashing his fist into his opponents face. The reason for his violent reaction was, he said, that the other player had called him those two self-same words. Aggressive language creates aggressive action. And then we must look at its effect on the rest of the football. In the Coventry and Warwickshire Youth Leagues last season, seven games were abandoned; we are talking about players between 13 and 18 years old. The Disciplinary Manager of Birmingham County FA, said, 'When these young players see something in professional football they will copy it. A couple of World Cups ago, when players were diving to win penalties; there was a big increase in kids diving. Now we see footballers swearing at referees and the young players are copying it.'
      If the FA had failed to take action, then players of all ages across the country will think that this type of language is perfectly acceptable. After all, if it's OK for the captain of England, then it must be OK for everyone.