Newcastle's goal raises questions on handball
Newcastle's second goal against Reading in the Premier League clash at the Madejski Stadium has created a great deal of discussion, some of it rather fanciful, but showing just how tricky the question of handball can be for the referee. The one fact that can't be ignored is that ball came off the arm of Newcastle's large Senegalese striker, Demba Ba, before it eluded the outstretched hand of Alex McCarthy in the Reading goal. One thing that seemed odd was that there was little protest from the Reading players, a couple of raised hands. The crowd too were silent; no eruption against the handball only disbelief that a deserved win had been cruelly snatched away by a late goal. It was only after the game when supporters were perhaps listening to BBC Radio Berkshire that the handball came to light. The commentator didn't see it but his co-commentator, former Reading player and manager, Mick Gooding, spotted it presumably on the video replay. The question is did the referee see it? Premiership referees take great pains not only to keep up with play but to get their angles right but no referee sees everything. You can't see through people. Every referee experiences the cry of handball many times in a match but few are given and often it is because the referee doesn't see it. The golden rule is, if you don't see it – you can't give it. No way can you give it on a shout.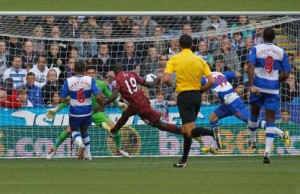 The problem is that players, spectators and may I say managers, don't understand the Law as it stands. I remember last year, one captain shouting at me, 'handball is handball', when the ball hit an opponent's hand. Well it isn't; the law says that to be penalised handball must be deliberate. So if the referee did see the ball hit Ba's hand, he then had to make the decision, was it an intentional act? Ba dived to head the ball but he either headed it on to his arm or he missed it with his head and instead it struck his arm before beating the goalkeeper. It's often quoted that the way to judge an intentional handball is to ask was it 'ball to hand' or 'hand to ball'. In this incident it was clear that Ba's hand moved towards the ball but was this just because his arms were outstretched in making his dive to head the ball? A tough call for the referee.
     Some Reading supporters were blaming the goalkeeper for not making a save but the television replay showed that he was not at fault. He had taken up his position to stop the headed ball but on hitting Ba's arm it had gone in a different direction. Here again, many people misunderstand the law and claim that if the player gains from the handball, whether deliberate or not, then they should be punished. That is not what the law says. Handball can only be punished if deliberate, irrespective of the outcome. In a television interview after the game, Ba admitted that the ball hit his arm and this gave rise to another aspect – player's honesty. Why don't players in such circumstances admit it at the time to the referee? There are many more instances of fair play in professional football than may be realised, when players could have got away with it but it is perhaps too fanciful to always expect a confession. Another fanciful demand was that now goal line technology has been agreed, why don't we also have videos replays to make decisions in instances such as this. The difference is that whether the ball has crossed the line or not, is a matter of fact, hand ball is a matter of opinion, so who is going to make that decision – was it deliberate? The referee or some committee up in the stands?